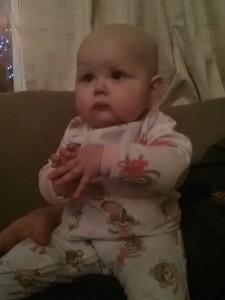 Hi all – As you know, we were able to bring Sally home around 6pm last night. We learned yesterday morning that her counts had skyrocketed over the previous 24 hours, so was well enough to leave. The only issue left was the pain she was in. Morphine works great for Sally through the IV, but for some strange reason she gets an allergic reaction when she gets it orally at home. Dilantin is another painkiller that also works well with Sally, but causes her heart rate to shoot up to unhealthy levels. So yesterday we had to experiment with Hydrocodone. It did help with her pain, but also may have wired her a bit as she wouldn't nap all afternoon. Still, it would allow us to manage her pain so she was granted her release.
Just prior to her release, Nicole was able to get the push of chemo that was scheduled for today so that she wouldn't have to bring Sally back in this morning. Sally is due to head back in on Wednesday for a quick count of her blood counts. We also plan to ask about her treatment for Christmas week as she is scheduled to get the Red Devil and other chemos that week, including treatment ON Christmas day. Obviously we'd like to avoid spending Christmas Eve and Christmas  in MSK, but will make the best of it if we have no choice, her health has to come first.
The last week was certainly an eye opener for us, we were not expecting Sally's counts to drop that low. If she would have gotten sick with anything more than a cold, her body wouldn't have been able to fight it off throughout the week. It was a reminder that we have to be very careful with having people around Sally. Our family has already become hand washing warriors.
Today, Sally was grumpy most of the day and wanted to be held by mommy. Nicole finally gave her some of the Hydrocodone and Sally was in much better spirits, although didn't nap all afternoon. She did well with her new Physical Therapist that worked with her this afternoon. When I got home from work, Sally was in a very playful mood. We sat on the couch and we played the game of taking the sunglasses off my face for a half an hour. She gave plenty of her awesome smiles. Although she now has diaper rash from going to the bathroom a lot today, so is back in a rough mood.
Nicole and I both had rough mornings emotionally. We were constantly on the go the last week, that finally having everybody home gave us a second to breath and digest everything that had just happened. It was yet another reminder of how serious this all is and we both had our minds going places that we try to prevent them from going to. I had a tough first day back at work, for the last week I was able to turn off stress from my job and just focus on family. It was overwhelming to come back and have that stress added back on top of everything else, I'll just have to get used to shouldering it all again, which I will.
Nicole felt we needed a little humor in our home over the holidays with everything going on, so she got us this shower curtain: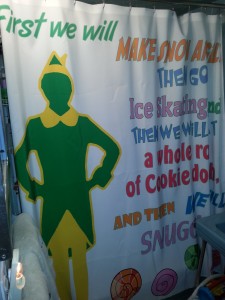 Christmastime is a nice distraction as we love this time of year so much. Please keep Sally in your thoughts and prayers.
Matt