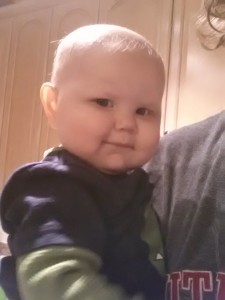 Hi all – Nicole had to bring Sally into Memorial Sloan-Kettering last night. I received a call from her late yesterday afternoon that Sally was having hourly bowel movements, and the last few had blood in her stool. Her tushy was very raw, to the point where she would wince and scream in pain while changing her. Overall, she was in a lot of pain, to the point where she was shaking. Nicole called MSK and they told her to bring Sally in so they could check on her.
I rushed home to stay with the boys so she could bring Sally in. When Sally arrived, she had a low grade fever which means something was brewing inside of her. Doctors diagnosed her with rectal mucositis. If you remember, Sally has gotten painful mouth sores before. This is the same thing, except its happening in her rear. There's really no easy way to describe this, its awful no matter what words we use. The sores are caused by the chemo and is quite common in pediatric patients, they can occur throughout the digestive track and are extremely painful. Just another reason improved treatment is needed for children…
After a few hours of waiting for test results and receiving an antibiotic via IV, she was able to go home, arriving back in Brooklyn around 1am.
Today, she improved over the course of the day. While I was on the phone with Nicole at lunchtime, she said Sally cracked a smile. By the time I got home she was very playful and energetic. The only time she was clearly in pain was when she peed or pooped. We're trying to avoid giving her the current painkiller she's on, we've found that it makes her over-energetic and unable to sleep. We need to address this with our Leukemia team and see what other options are out there as this is the third painkiller that has side effects for Sally. The other good news on the day is that Sally ate some oatmeal by mouth, which she hasn't had interest in for a couple days.
Nicole is on minimal sleep so she laid down earlier and I took Sally so she could get some uninterrupted sleep. The first time I tried to lay down with her, she sat back up and then punched me in the eye, obviously communicating that she wasn't ready to sleep. So we hung out for awhile and played until I was finally able to just get her down.  It warmed our hearts to see her playful again this evening.
We felt that William was coming down with something the last two days, and of course tonight he has an obvious cold. This means we have to keep him away from Sally and Nicole & I have to take precautions going back and forth between the kids. Already this cycle is proving to be a challenge for all of us, hopefully we can get a break at some point. Please keep Sally in your thoughts and prayers.
Matt