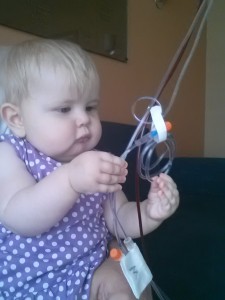 Hi all – our nurses came in at around midnight to take a blood sample from Sally. At 6am we were told that she needed to have platelet and blood transfusions that morning. A normal child's platelet level is 150-200, hers dropped to 6 and her hemoglobin was at 7.0 which is the number you drop to that warrants a blood transfusion. So over the next few hours Sally received one after the other. The biggest challenge was keeping the IV lines out of her mouth, these apparently look quite tasty to a certain person in the picture above.
Sally was ravenous for food today, she was literally begging for it and attacking the spoon. At one point she was even pulling food off her bib and eating it as apparently Daddy wasn't serving fast enough which was funny. What wasn't funny was that with every bite, Sally would start to whine with increasing pain to the point where she was screaming while eating. The sores in her mouth are really having an effect on her. She still won't take a bottle, Nicole resorted to spoon feeding her milk when she arrived this evening.
The nurses were giving Sally morphine every 4 hours, but decided to hook up a button that would allow us to give her a small dose every 15 minutes. We were going to test pressing the button right before she ate to see if it would help, however it malfunctioned so will have to try again tomorrow. If somebody wants to do something nice, please send the nurses on the pediatric floor (9th Floor, IN-PATIENT Pediatric Nursing Station) something nice, they take care of Sally as if she were their own and we know go out of their way for her from some of the stories we hear.
The rest of the day included a 3 hour nap that allowed Daddy to get some work done, and a lot of snuggling as you can see in the image below. Due to the low blood counts she didn't have much energy and mostly just wanted to be held. I'm heading home for the evening to see the boys and then back to MSK at 7am so Nicole can head to work for the day.
Thanks again for all the comments here and on Facebook, they mean the world to us and we read each and every one of them. Please keep Sally in your thoughts and prayers.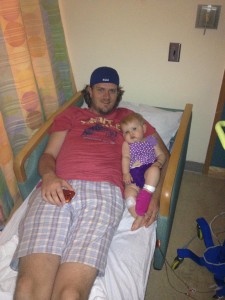 Matt