Hello all – Over Christmas, we finally got to take Sally on her Make-A-Wish trip. Most families like to do a Disney-type trip, but that wouldn't be right for our family, especially with Sally's epilepsy and it wouldn't have been fun for her. Sally isn't cognitively able to make a wish, so we took what we know about Sally and our family and made an educated guess on what she'd enjoy. Sally loves the beach, our family enjoys going fishing together and we aren't good in crowds. While on treatment, and even times now, Daddy always said he wished we could take our family and just get away from it all to some remote island. This was our chance, so we decided on an island getaway. A Christmas Island Getaway to be exact. For anybody who knows us, we have a bit of a Christmas obsession, so was a big deal for us to spend it away from home, but due to school breaks it was our only opportunity.
We locked in a trip to St. John USVI, then a few months later a hurricane hit it. Then we considered Puerto Rico, the other Caribbean island with a reputable hospital. Then that got hammered by a hurricane. This is pretty much the theme of our family, right? Around that same time Sally was starting to have her bad GI issues, her seizures were increasing, she was sick often and we didn't feel comfortable leaving the country anymore and being far away from an American hospital. It was now fall and we still wanted her tropical Christmas getaway but kept striking out on options. Then in a random Google search we came across a tiny island off Ft. Meyers, FL called North Captiva Island (not to be confused with Captiva Island). There weren't a lot of houses/people, was only accessible by boat, there were no cars (golf carts only), and we found a very private home with a small pool that was ideal for Sally right on the beach. It was perfect, and we locked it in.
We mentally prepared ourselves to cancel, knowing Sally always gets sick and is just the kind of luck we typically have. Sure enough, she got sick the week before the trip. After getting labs done, our doctor determined she had a virus but would clear us to travel, and a few days later, we did. Not before an insane amount of planning, packing and ordering a week's worth of groceries in advance (there's no store on the island!).
We all know looking at another family's vacation photos is, well, boring. So below are some photos with rapid fire commentary. We also tried to stay off of our phones as much as possible so we could live in the moment, so we didn't take a ton of photos.
And you know what, that's OK.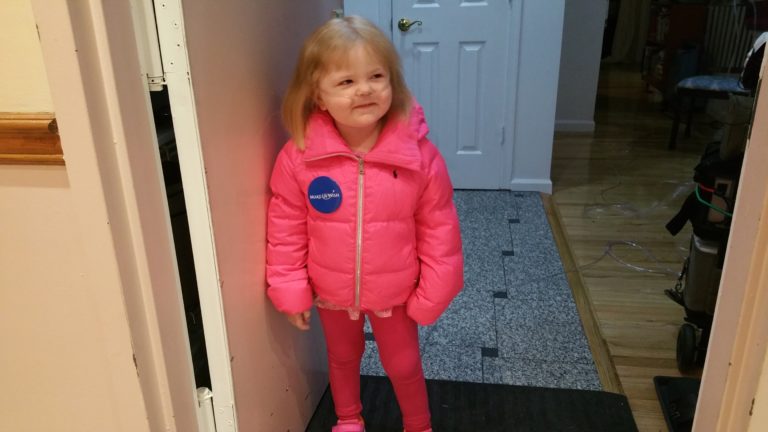 Ready to leave at 6am, despite still not feeling well. We were told the blue Make-A-Wish is essentially a VIP badge, and it sure was in the airports.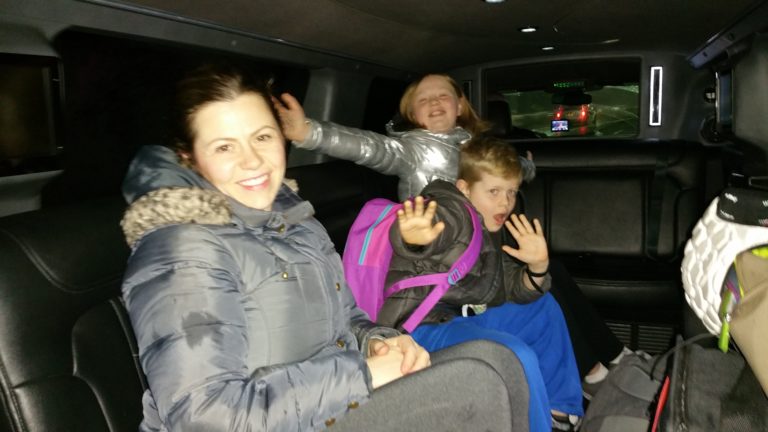 We were picked up in a limo, our first time as a family in one. Let's just say the boys were excited.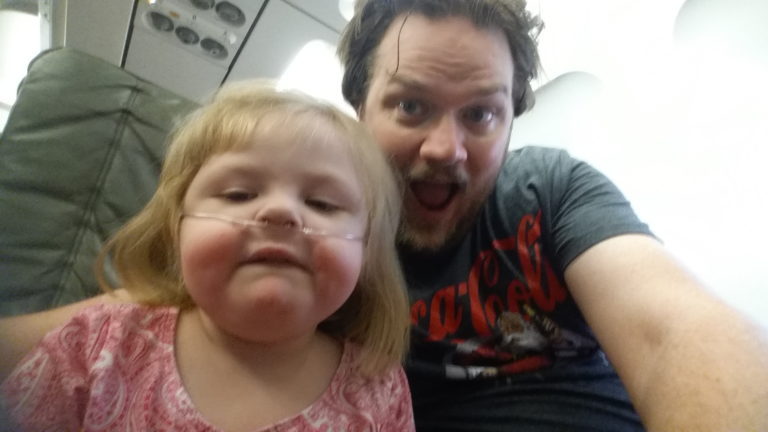 The blue button worked it's magic when we got to the airport. We were escorted right to the desk, and the woman at the counter in turn escorted us to the front of the security line. Between all of Sally's medical equipment and medications, that portion took quite a bit of time (Daddy got the full body pat down) but we made it through and got onto the plane.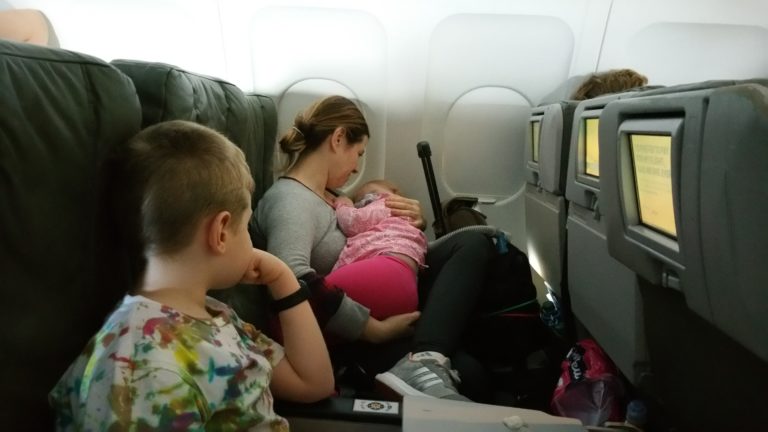 All was fine until most of the way into the flight we had a real scare. Sally got lethargic, her lips turned blue and her oxygen saturation plummeted from the 90s down to the 50s/60s, extremely dangerous levels. At the same time, our backup battery on Sally's oxygen compressor failed. In a panic, we reached out to the flight attendants who brought us to the back of the plane where after speaking to the captain, allowed us to plug her machine into the plane's power supply. We debated having medical personnel meet us at the gate. We cleared out Sally's nose and turned the machine up as far as it would go, and slowly she recovered by the time we landed. Let's just say it took us a bit longer to recover.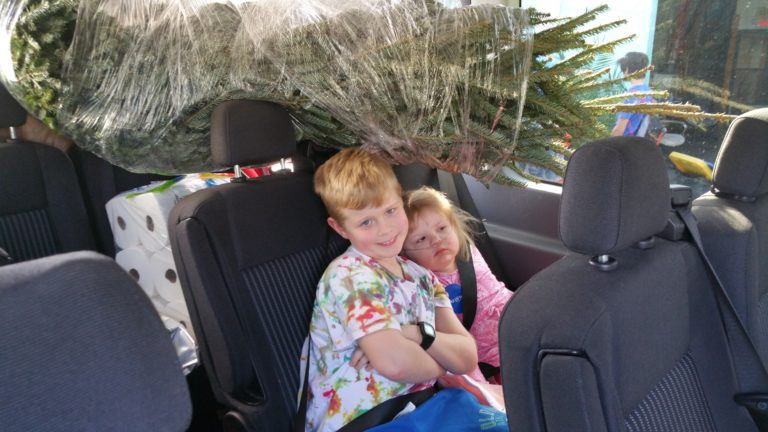 After deplaning we were picked up by a nice man from Texas in a huge van. Why a huge van? We had to pick up a week's worth of groceries (in addition to all of our luggage) on our way to the North Captiva Island ferry. The week before we reached out to the nearby Publix and worked with a wonderful woman named Betsy to put our order together. As it turned out, Betsy lost a family member to childhood cancer and went out of her way to help us. She even worked with the store manager to secure us a live Christmas tree, something we've never had as a family (ours are artificial) and one of William's wishes for Santa. It was great to finally meet Betsy when we arrived, who had some special treats for Sally. When leaving, Sally demanded to sit next to the tree. 🙂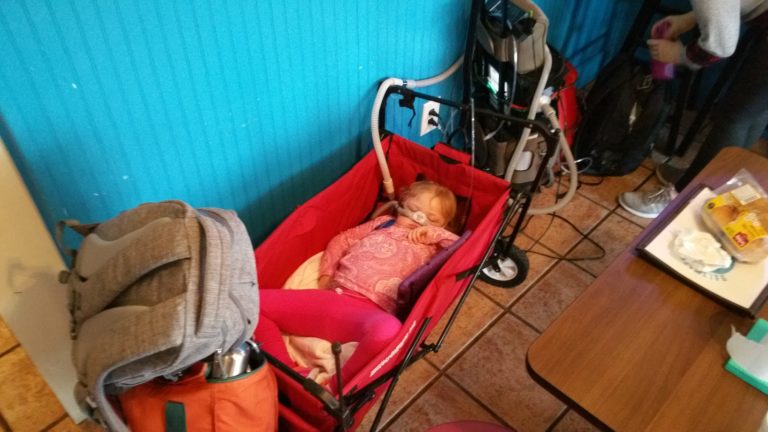 We had two hours to kill until the ferry, so dropped all of our stuff off at the location and had lunch at a BBQ place that Make A Wish coordinated for us. It was soooooo gooooood. It was also perfect, it wasn't crowded so Sally was able to sleep in the cart for most of the time.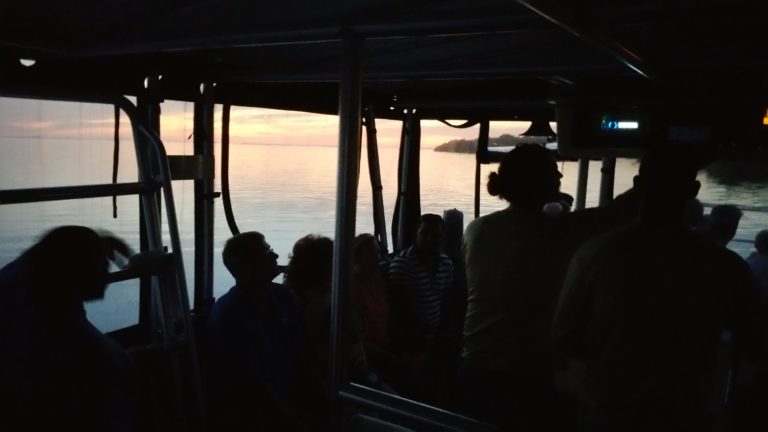 The ferry held about 50 people, and we left at sunrise so arrived on the island in pitch black dark. When we got to the house, it was so dark that we were actually curious if we were on the beach. We could hear it, but not see it.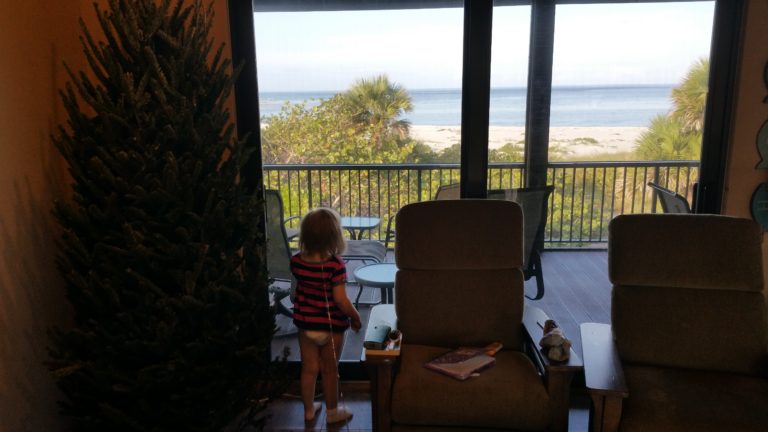 The next morning we realized that yes, we were on the beach. Sally just stood there and stared at it for awhile. Then she asked to go down to the beach. She wasn't feeling well, but this was her trip. So…OK.
The water was crystal clear, and there were a ton of shells to find. It was Christmas Eve and she was in her happy place, as were we.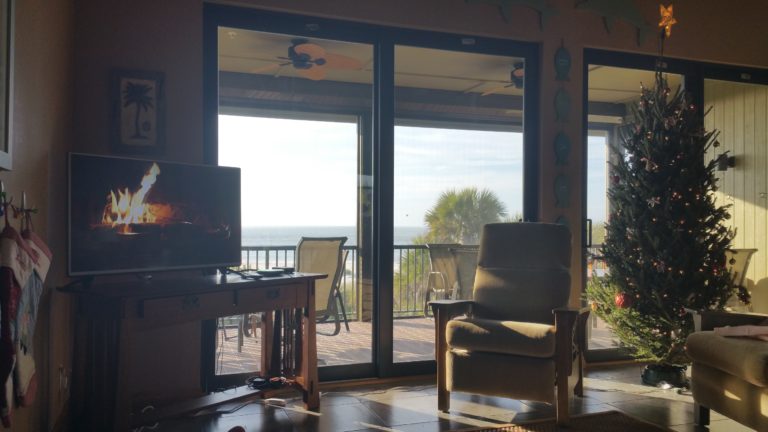 While she was napping, Mommy Christmas-fied the whole place. We totally rearranged the furniture so we could look out at the beach, enjoy a nice warm (Netflix) fireplace and the Christmas tree (decorated with shells from the beach), which according to the guys working on the island is the first live Christmas tree they'd ever seen brought onto the island! Go Kabels! Thanks Betsy!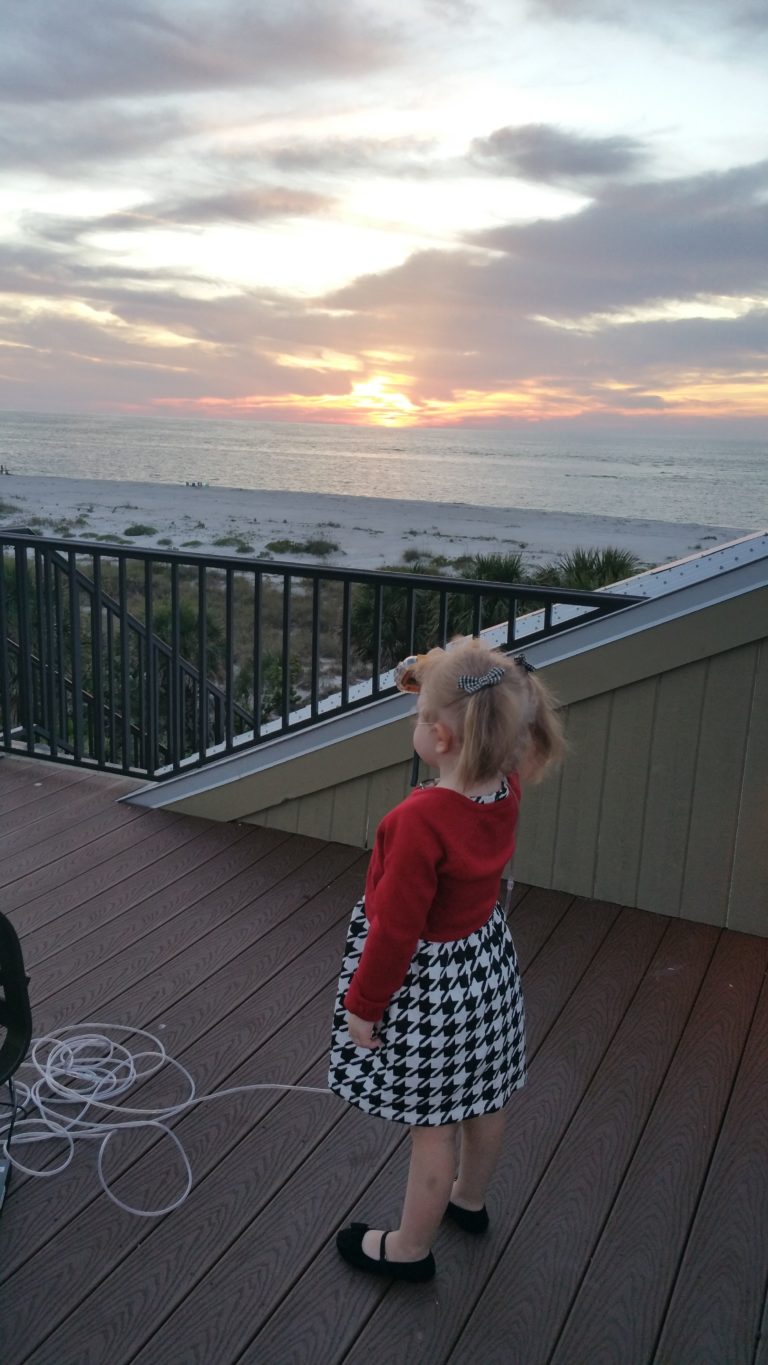 That night, we had Christmas Eve "happy hour" up on the roof deck and watched the sunset together, which was incredible.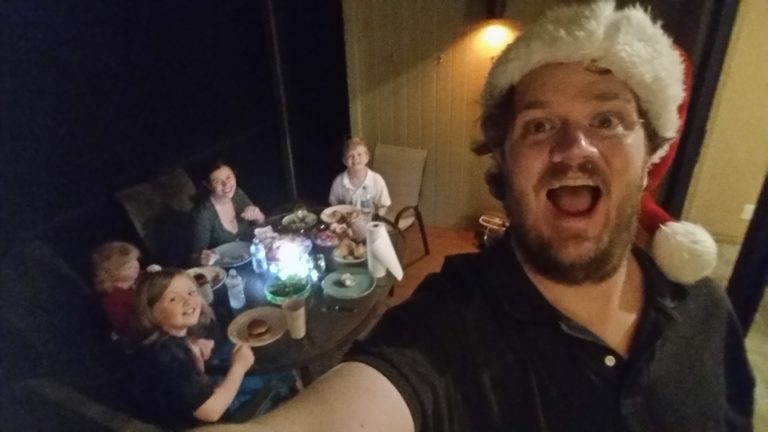 Christmas Eve dinner out on the porch, which included lobster, one of Sally's favorite foods. We had to maintain some part of the Seven Fishes.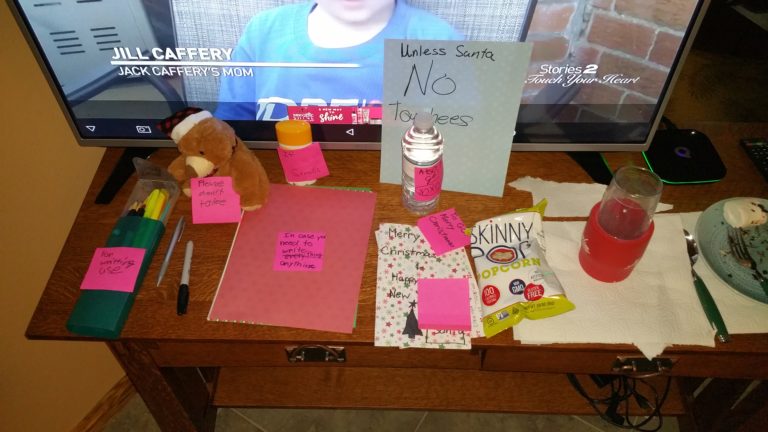 The boys, who were worried about Santa finding them (especially William), put out a major spread for the big guy. Would he come…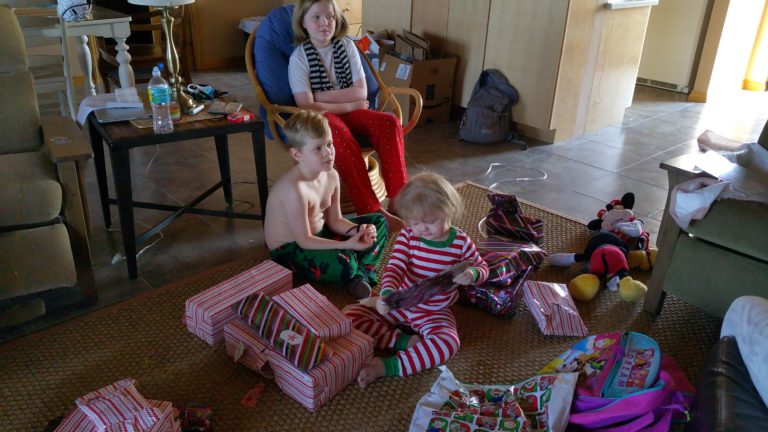 That he did!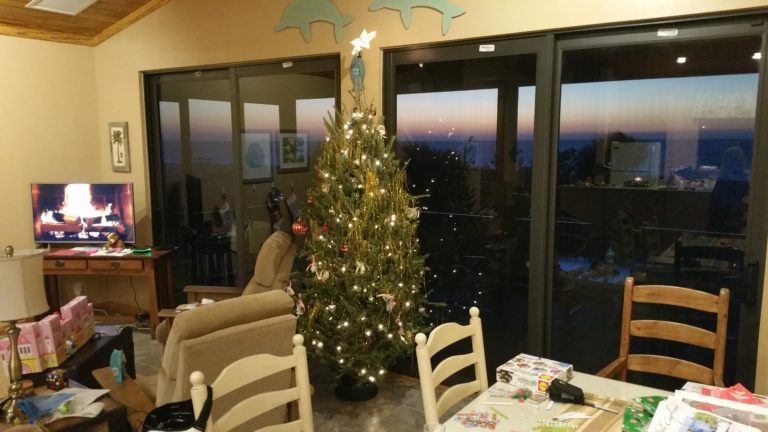 Christmas sunset.
Sally was feeling lousy and particularly miserable throughout the day, especially at dinner. That night as the kids were about to go to bed we asked her if anything would make her happy, and she replied "I want to ride in the golf cart." Well, OK then! We threw some jackets on, Mommy strung some Christmas lights on the cart and off we went, driving around the island in complete darkness with Christmas music blasting from Daddy's phone. The rare times we'd see somebody we'd scream "MERRY CHRISTMAS" together. Sally had a blast…we all had a blast. It's one of those moments I'm sure we'll always remember.
The next day we rented some fishing poles, and as you'll see, this was how we spent a good chunk of the time on the island, especially Mommy and William. Daddy caught the first fish, a catfish, while standing on those rocks watching the sunset.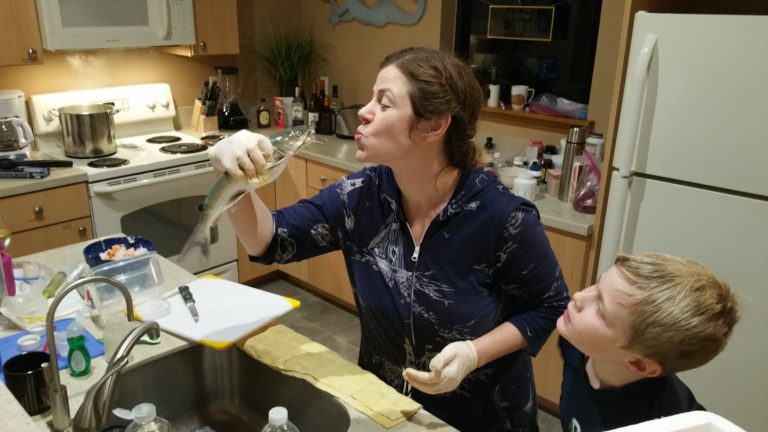 Daddy's fish, which was apparently smooth talking Mommy.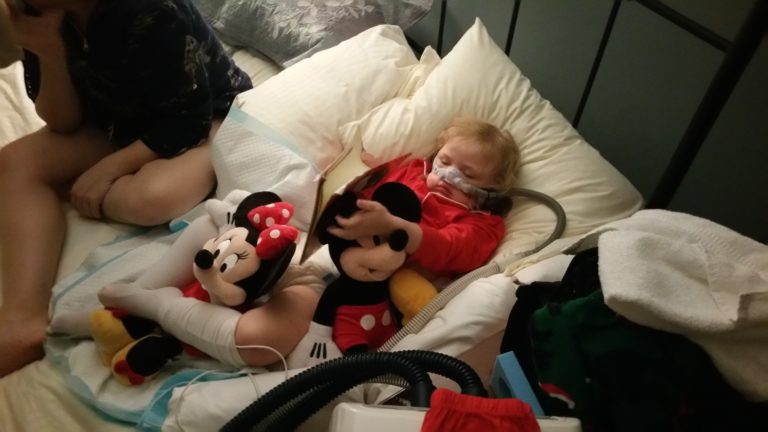 Sally insisted on going to bed with Mickey/Minnie, gifts from Betsy. The next few nights Sally really struggled with her oxygen levels while sleeping. We ended up going to the firehouse on the island and asking if we could borrow an O2 tank to be on the safe side, which they were nice enough to provide us.
Sally felt a little better the next day and after watching everybody else fish, she wanted her turn.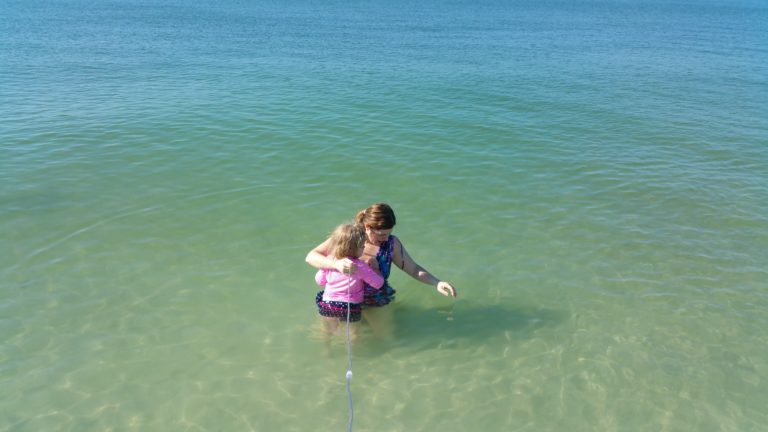 And she wanted to go shelling like everybody else. It was tricky, we had to keep her face and the oxygen line out of the water, but we made it happen.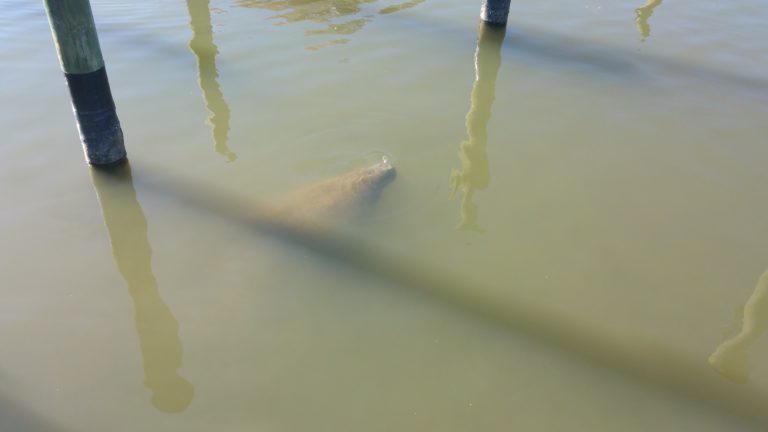 Look, a manatee!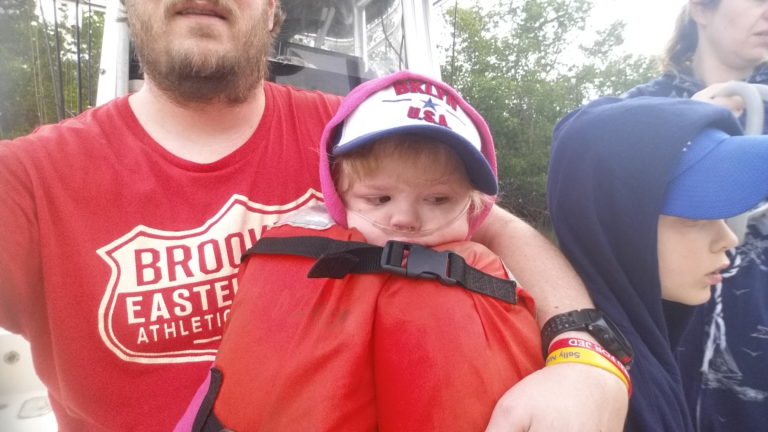 The next day we got to go on our excursion. Every Make A Wish trip comes with one excursion, we picked a fishing trip for Sally.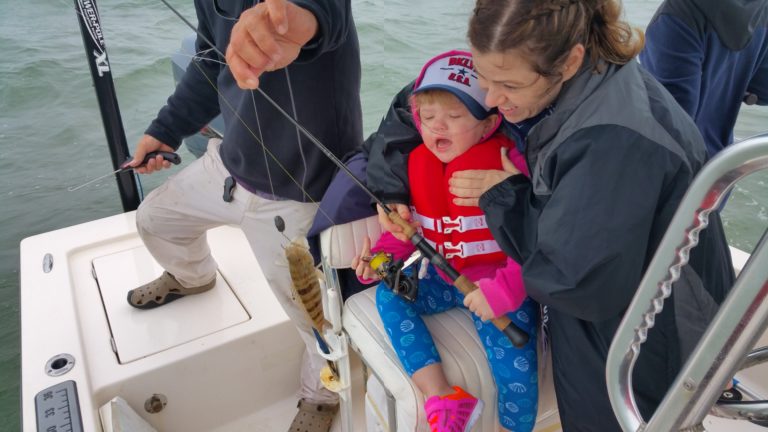 Guess who caught the first fish? She kept saying, "Look at that guy!" and "I wanna catch more fish!"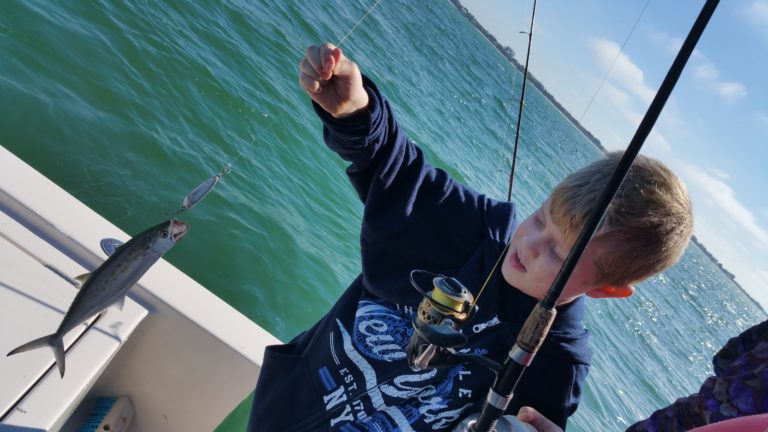 After fishing more than anybody on the trip, William finally caught his first fish. One would later get away while fishing on the beach, and he was not leaving that island without catching another.
Sally and Mommy caught puffer fish. When you rub their bellies they inflate.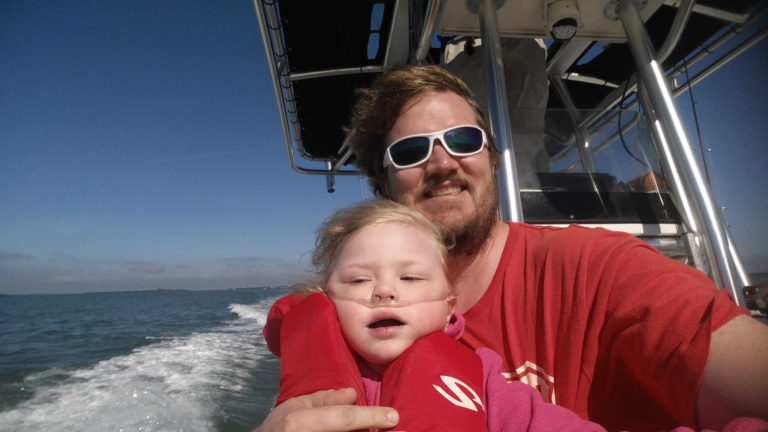 At one point we went super fast, which Sally loved. She kept yelling "WAH-HOOOOO!!!" She had such a great time on the trip.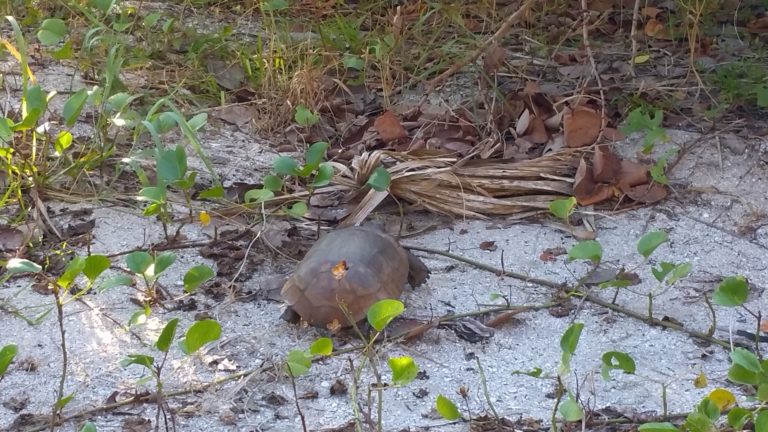 This huge turtle strolled past us one day. We also saw dolphins almost every day.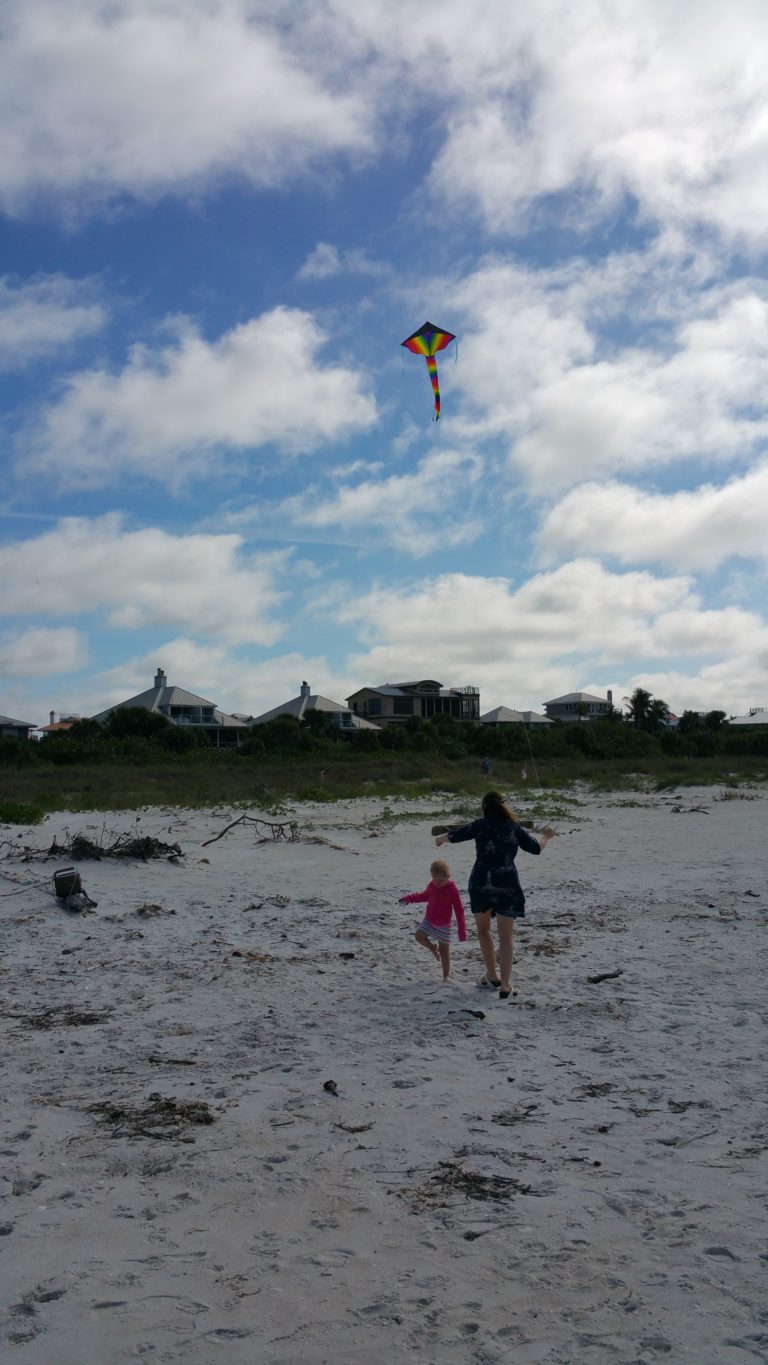 The first time Mommy and Sally had ever flown a kite. Yes, this is the first time Mommy ever actually flew a kite.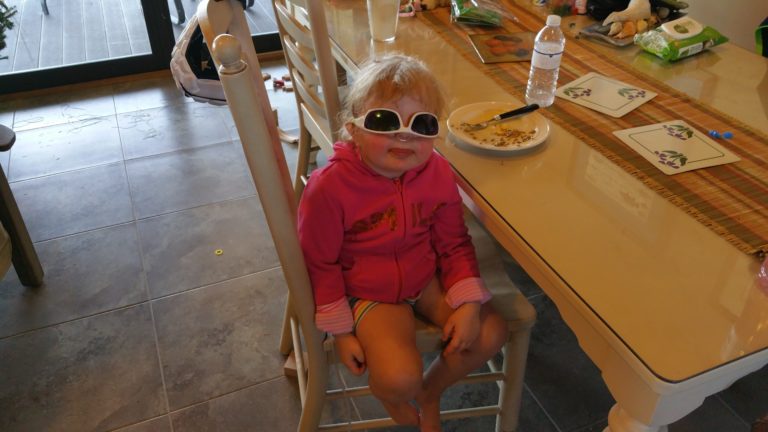 This was the last photo Daddy took on the trip. Shortly after, he took the boys on a wave runner, which tipped over. Even though his phone was in a ziplock, it got drenched. Luckily, he was able to save the pictures, but also meant he only took a handful more pictures on Mommy's phone. That too was OK, it allowed him to live in the moment.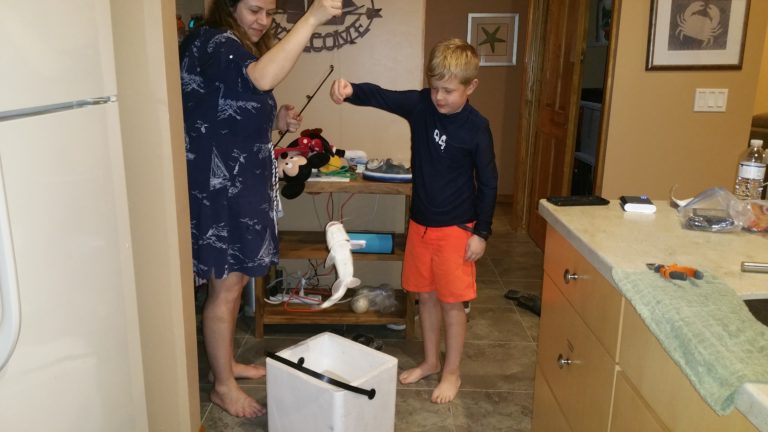 And on the last night, William finally caught a fish on his own, a HUGE catfish. We were then able to leave the island. According to him.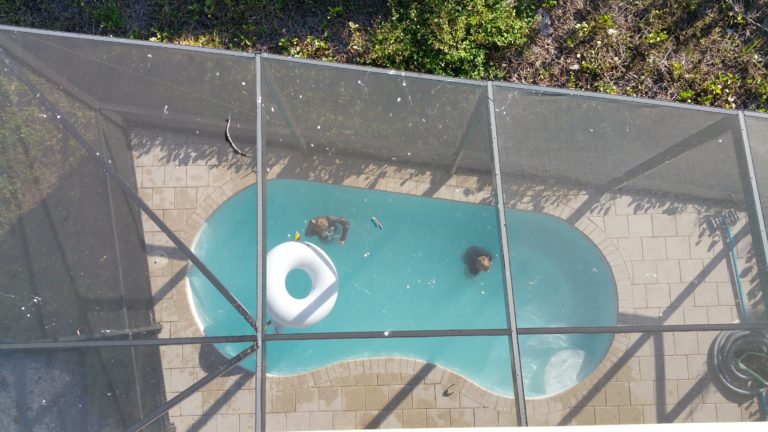 The boys enjoying one last swim. We jumped on the ferry and then drove up to Sarasota to see Grampa and Grandma Kabel for a few days and have some down time before making our way back up north. We literally just laid around, watched TV and swam in the pool. Oh, and watched the Buffalo Bills make the playoffs for the first time in 17 years!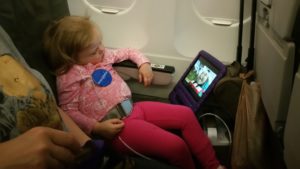 On the flight back to NYC, we had the same scare that we had on the way to Florida, where Sally's O2 dropped again. This time it happened much later in the flight and by then had two spare battery packs and were able to pump enough oxygen to keep her stable until we landed. We learned later that when on a plane, you need to keep oxygen support at double the level that you typically have it. That would have been great to know prior…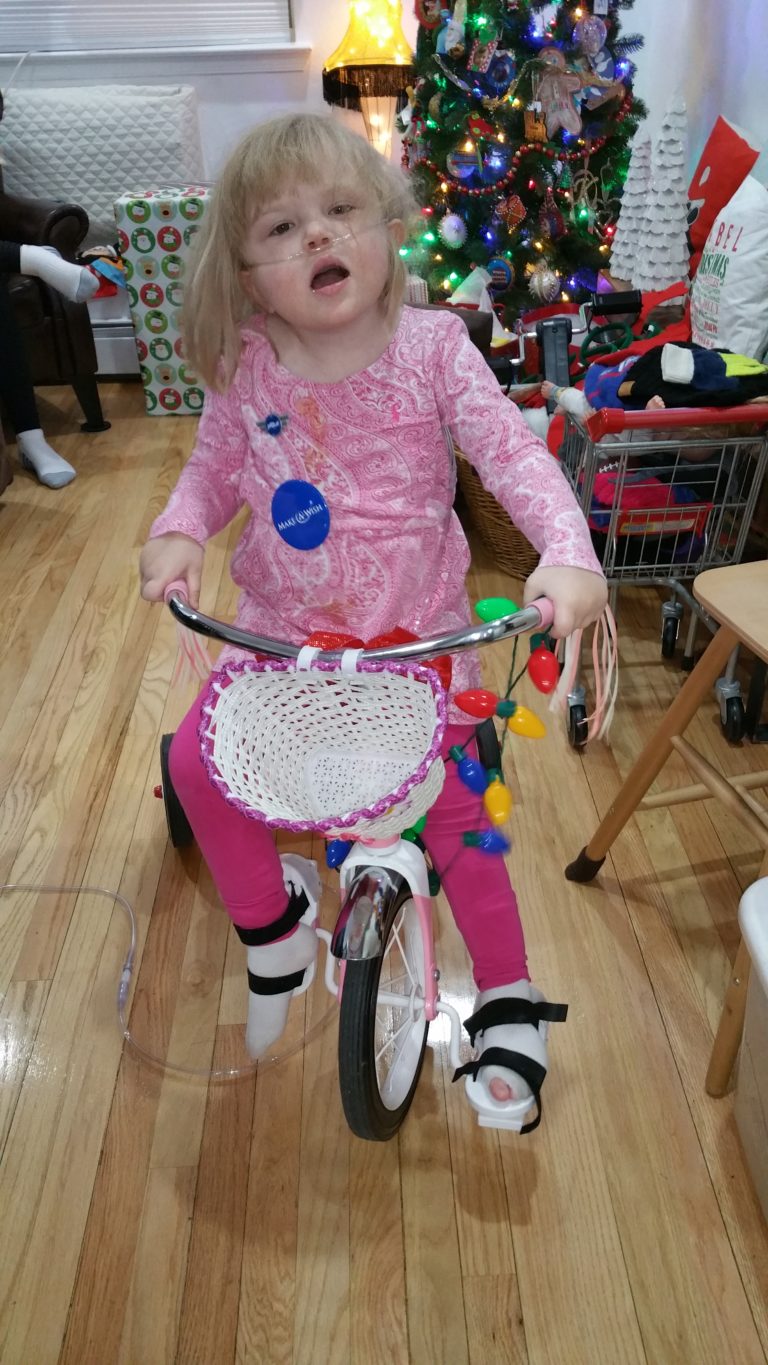 We came home to find that Santa had visited Brooklyn too!
It was a wonderful trip. We really made the effort to be present with the kids and make some memories together. We wish Sally would have felt better. We'd learn after that she was actually battling two viruses over the trip, which along with the incident on the plane is why she felt so lousy.
But in the end, we were able to pull it off and actually "escape" as a family and have a happy place in our minds for the ups and downs that we're sure to go through in Sally's life. It was really great just being together.
Please keep Sally in your thoughts and prayers.
Matt & Nicole