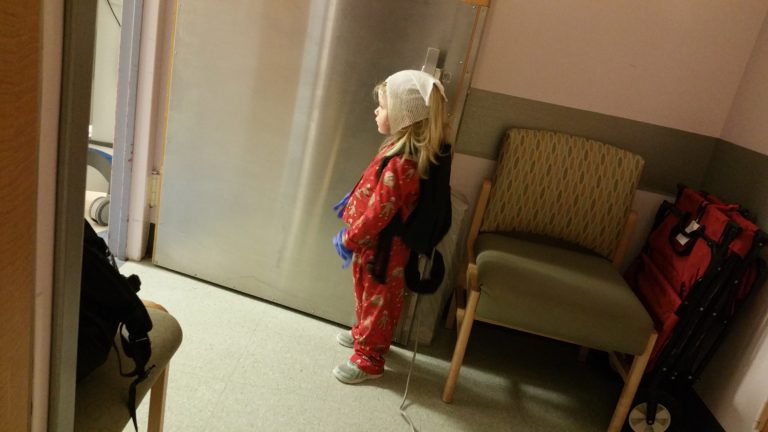 Hi all,
When we last posted a month ago, we were seeing an increase in Sally's seizures caused by the cancer treatment and had started her on a new drug called Depakote. After just being released following an unexpected 5 day hospital stay, we're now counting on this med to stop a downward trend that we're seeing in Sally.
Shortly after our last blog post we all headed down to Florida to see Grampa and Grandma Kabel in Sarasota for a 10-day Thanksgiving vacation. With Sally starting school, we haven't spent as much time with her so could only go by what we saw on weekends in regards to her seizure activity. With the increase we were already seeing, Nicole decided that we should track all the activity we saw so that we could share that data with Dr. Devinsky's team prior to an at-home EEG we had scheduled for the week before Christmas. As the days went on, we were surprised to not only see how much activity she was having, but new behavior that we hadn't yet seen.
After tracking her for several days, we realized she was having 50+ myoclonic jerks on most days. We also saw different kinds of activity which included the myoclonic jerks we were used to, staring spells, shaking hands and spasm-like actions where her body would tighten and her arms would raise up and shake. The last type are scary, when they occur and she's standing she loses her balance and can fall. This short video shows an example of one. If you notice she's continuing to eat, however we now know that only part of her brain is functioning so she is likely not fully conscious during this period. We called this behavior into the doctors and they told us to increase her Depakote dose as an initial step.
We returned from Florida and followed up with Dr. Devinsky's team, they were concerned enough with what we were seeing to get Sally admitted for a full video EEG as opposed to the at-home one we were scheduled for the following week. There are only a handful of beds available at NYU that can handle video EEGs, so we were on call waiting for a bed to open up. In the meantime, Sally was developing a bad cough and two brief fevers at school. We took her to her primary doctor who was concerned that Sally had developed pneumonia, so she was started on an antibiotic. Strangely enough, we saw a brief decline in her seizures shortly after. Finally, after six anxious days of being on call we were admitted into NYU on Thursday night.
For the first 12 hours, few seizures were seen on the EEG and doctors initially thought Sally could go home on Saturday. Nicole and I were baffled, we'd seen excessive seizures for weeks now and couldn't explain why they all of a sudden stopped. We wondered if Sally had been battling an infection since starting school and that treating it finally with the antibiotic was reducing the seizures. That would have been a best case scenario, but sadly wasn't to be. That afternoon we began to see her seizures again. We also saw a drop in her blood pressure and nurses struggled to get blood out of Sally, which is highly unusual. It required many pokes in different parts of her body, very painful for Sally bringing back memories of the day she was diagnosed with cancer.
On Saturday morning, fully expecting that we were going to be discharged, the doctor on rounds informed us that we'd be staying admitted. They were surprised to have seen a sudden increase in Sally's seizure activity and were very concerned at what they were seeing.  They also informed us that Sally was likely having seizure activity at night, something we hadn't seen in months. There had been nights recently where we'd find Sally in different parts of her bed, one night we found her sleeping on the floor. We're told that this was likely caused by seizure activity, obviously very concerning. There was also no decrease in the slow spike wave pattern in her sleep that we'd been seeing since her first EEG back at Cornell.
The doctor decided to increase her Depakote dose further, being that the drug usually has a lot of success with the generalized seizures like what Sally was having. Depakote can also cause low blood pressure, which may explain our challenges with drawing Sally's blood. Another side effect of the Depakote is drowsiness, which we have seen in Sally who had fallen asleep at school for two hours recently, and who was taking long naps in Florida. On Sunday, he decided to keep her admitted until Monday when Dr. Devinsky could weigh in on the results.
On Monday, Dr. Devinsky confirmed that they were seeing around 30 seizures a day on the EEG, likely fewer than we were seeing at home due to less activity from being in a hospital. He agreed that the first action to take would be increasing her Depakote to a therapeutic level. This will require us to incrementally increase the dose over the next month, and go in for blood tests to check her levels. He said we could also be released from the hospital and do this at home since it would take a few weeks to measure any impact.
We can't express how badly we are hoping this works. Another doctor on the team visited before leaving and shot us straight, saying that Sally is on an obvious downward trajectory in the direction of a Lennox-Gastaut Syndrome (LGS) diagnosis. This would be a worst-case scenario. We first mentioned this condition when we had the EEG at Cornell as it appeared as a possibility in her diagnosis. You can learn more about it here, but is a very serious form of epilepsy that is extremely difficult to treat and has a poor long term prognosis. We've mentioned before that getting Sally's seizures under control quickly is important, this is why.
Another treatment option is steroids. One of Sally's oncologists once commented that steroids should never touch Sally's body ever again due to the effects she experienced on cancer treatment, however we may not have a choice. Due to Sally potentially having pneumonia, it's not an option right now as the treatment will significantly lower her immune system.
So for the next month, we'll focus on the Depakote and are praying that it's successful, we'll have to watch her very closely and work with her school to ensure they are as well. We also want to be prepared if Sally does require steroids. She will need another bone density scan to see if her bones have continued to recover from the treatment. We also need to visit her pulmonologist to ensure the pneumonia is gone and touch base with Sloan Kettering and get their insight into potentially using more steroids.
We're still digesting the news, and going back into battle mode knowing that we have an uncertain outcome. For now, we're doing our best to continue living in the moment and enjoy the end of the Christmas season. We look forward to spending time with friends and family over the next two weeks and a slower pace than we've had the last several months. It'll be a nice distraction, especially for the boys who have watched Sally's seizures worsen, they've already seen their sister go through so much. Sally's buddy William is having an especially hard time with it, asking a lot of questions and expressing his worries. To be honest, we're all a bit scared, when we got home from the hospital we saw Sally have a seizure while standing and almost fall face forward. We feel like we're up against a clock, but know we need to focus on what we can control.
We want to wish everybody a Merry Christmas and Happy Holidays, we hope 2017 yields good results for our little Sweet Sally Sunshine. Please keep Sally in your thoughts and prayers.
Matt & Nicole