Hi all – We've been getting a lot of questions about how Sally is doing, so wanted to provide an update.
Sally's cast came off the week before last when we found out that the staff who remove casts can only do so on Thursdays, which meant she would have had it on until the week after New Years due to both major Holidays falling on Thursdays this year. She did a great job and laid quietly on me while they sawed it off.
Unfortunately our joy of having it off was short-lived when we learned that although Sally's leg healed, it remained fractured in two places. In addition, the bone in her leg has deteriorated so much from the treatment that it was transparent on the X-Ray. The doctors think that Sally has been experiencing micro-fractures in her leg this whole time, and will likely continue to do so. They decided to leave her cast off so she could work to strengthen it, however we have to watch her very closely. Sally is the best barometer of how she is feeling so we cannot push her to crawl or stand if she is not willing. She will likely continue to fracture it throughout the rest of treatment, however this should help strengthen it over time. A double edged sword.
That night she took off crawling and has been both skooching on her butt and crawling around our home. She pulled herself up to stand a handful of times but mostly avoids putting pressure on the leg for more than a few seconds. It's frustrating for us considering how close she had gotten to walking, and knowing she may not do so until after her 3rd birthday this fall when treatment ends. It will be a long battle for us to get her back to where she was.
Another change in Sally's development was that she began drinking water. Not just sucking it up and spitting it out, but swallowing. She loves to sit in her highchair and sip on her straw while we push food in through her feeding tube so she relates swallowing to getting full. However, every step forward with her has a step back, she is no longer eating any solids off a spoon which she had just begun doing previously. Another ongoing battle for us.
Other than that she has been an absolute joy to be around, so happy and full of energy. The Holidays allowed us to see family on both sides, some of whom haven't seen her in months, and all enjoyed being around her spunk.  We even got to bring Sally to see Santa, arranged by our friends Justin & Leigh Brannan who had us come at a time where there were minimal families and were patient with us. Sally, who is obsessed with Santa, was all too happy to sit on Santa's lap for her first ever photo with him, last year being robbed by cancer.
Christmas was great, we all got to go to see Thomas in his Christmas Pageant at our church, Sally's first time there since she was baptized as we can't bring her into crowded space. The organizers had us sit up in the choir loft away from the crowd which is the only reason we were able to do it. Although a nice family behind us had kids who were coughing, so I took Sally and sat alone away from the other families up there. It was funny because Sally kept waving and smiling to everybody, happy as could be, however a reminder of why we can't bring her into spaces like that.
Christmas Eve we spent with family doing the Feast of the Seven Fishes which lasted til midnight, our little party girl refusing to sleep. Christmas morning we opened presents of which most were donated by Megan Hamm Williams, a mother who battled childhood cancer and wanted to give back so sponsored our family along with her friends and family coincidentally in Western NY. We want to offer them a heartfelt thank you for all of their wonderful gifts, and to everybody who sent our family presents, you made our Christmas so much brighter.
The following days were spent between our families in Connecticut and Rockland County, Sally having a blast getting to go to different houses and seeing family that she hasn't seen in quite some time.
Of course, the fun has to come to an end. Tomorrow on New Year's Eve we all have to be at MSK at 7am where Sally is expected to return to the more intense chemo plan she was on before the seizures forced us into this two month reduction. There is a lot of uncertainty with how these remaining eight months will go, we're going to have to thread the needle with her treatment based on how she is doing. We want to the chemo to be as intense as she can handle it as threat of relapse with her specific diagnosis is high, however have to be cognizant of how it is affecting her body both short and long term.
The plan will be 100% tailored to Sally and how she is doing/feeling. They will not be giving her the spinal tap of chemo due to the seizures. They will likely reduce or skip some of the steroid treatments due to her bones weakening. We're not quite sure on the dosage of her other chemos, even tomorrow's.
It's frustrating as the plan is that there is no plan. We have stuck to a very rigid plan for over a year and the uncertainty of not knowing what these next few months will look like brings fear and makes us unsettled. It's likely something we are going to have to adjust to as cancer continues to throw curveballs at us. Will her GI issues return now? Wil her development be stunted again? Can her body handle more treatment? Will all that beautiful blonde hair she's grown fall out as our doctors have told us to mentally prepare for?
Her hair coming back was what most people have commented on the last few weeks, I think most who don't follow Sally closely think she's over the hard part of treatment, which is as far from the truth as you can get. Her having hair has made things feel more 'normal' lately, walking down the street or meeting people you don't get the same curious glances as when she was bald. It may just be hair but it's a metaphor for what these two months have been like outside of the broken leg, a sense of what our lives would be like if cancer hadn't shaken them to our core. Tomorrow we begin what is hopefully the final long leg of the journey that will get us back to that point this fall, however we go into it knowing it will test us all more than we have experienced so far.
One day at a time…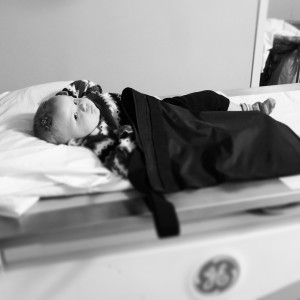 Please keep Sally in your thoughts and prayers.
Matt