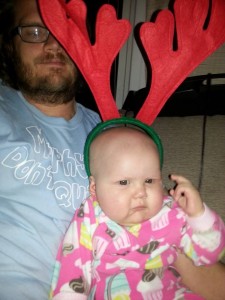 Hi all – Sally has had a very good week, she's really on the move getting around on her tushy. In addition, she's taken on a new hobby – dancing. If you haven't seen, here is a video we shared on Facebook this week. Sally never watches TV, she doesn't have interest in it. However, she was on the floor while Thomas was watching The Nutcracker, and not only started dancing, but turned around to watch it. She dances so hard you can hear her panting at the end. You can watch by clicking here. Oh, and not to overkill, but here's a new one of her dancing with our music Santa doll today – click here.
We also received an amazing visit last night. A few weeks ago, PS19 in Staten Island reached out and asked to adopt our family for Christmas. They showed up with a ton of presents, several gift cards and a $5,000 check for Sally's treatment fund! Nicole and I were stunned and speechless. We want to thank Gina (yet another Kearney alum helping us out), Chrissy and all the staff at PS19 for making our Christmas brighter. As Nicole said, Santa Claus has come in many forms for us this year through amazing acts of support for our little girl.
Sadly around the same time last night, we learned that a boy in our Infant Leukemia support group passed away. His mother's message was simple, but powerful – "Henry died today at 2:05. He was in my arms, surrounded by love." Henry got through his treatment for Infant Leukemia, however the same treatment that "cured" him, ultimately killed him as his immune system was decimated from all of the chemo he received.
This really struck a cord with Nicole and I. I had seen the news earlier, just a simple "Did you see it?" from Nicole and we both knew what she was referring to. When we first started this, we figured we'd just have to get Sally through her two years of treatment. Sadly, it won't be that easy. Not only do we have to worry about Sally relapsing over her two years of treatment AND worry about her relapsing the year and a half after, but we're likely going to have to live with the threat of what the effects of chemo will have on her over the coming years. Our long journey appears to grow longer as we work through this, with new worries being added along the way.
One of the most worrisome types of chemo is what she'll receive the next two days, the Daunorubicin, or Red Devil as it's nicknamed. I've written about this one before, it is known to cause heart damage. Sadly, just since the last time Sally got it almost two months ago, we know of two children who died not from their cancer, but specifically from the effects of the Red Devil. It's one of the prime examples of how outdated treatment for pediatric cancer is, and how you shouldn't be treating kids with treatment designed for adults.
As we mentioned last week, our Leukemia Team at MSK was working to arrange for Sally to begin her three-day treatment on Sunday so we wouldn't have to spend Christmas Day in the hospital. They were apparently able to schedule a nurse qualified to give Sally the Red Devil on a Sunday as we're scheduled to be there at 8:00am tomorrow morning. These next three days is a ton of of chemo for Sally, she'll receive it all day tomorrow and Monday, and half a day on Christmas Eve. Last cycle she did better than expected with this portion, but as we've already learned this cycle we know things can change. We've got loose plans for the next few days included getting the boys around the city to see some Christmas things. We also hope to be able to join family on Christmas Eve and Christmas in a limited fashion, even if only for a little bit.
We also accept that we may be spending a lot of the holiday on our own, which is fine. It is what it is, we'll make the best of whatever situation we find ourselves in as long as our little girl can continue to dance her heart out. Please keep Sally in your thoughts and prayers.
Matt