Hi all – if you aren't able to follow Sally's Facebook page, I just want to quickly recap the last couple days. On Sunday morning, Nicole brought Sally into Memorial Sloan-Kettering with a 102 degree fever and after she threw up a couple times. She was given an antibiotic and sent home, however on the way home Nicole received a call that Sally had tested postitive for Respiratory syncytial virus (RSV). This isn't serious in adults or older children, but can be in infants or those suffering from heart or blood disease like Sally does. Although Sally's fever broke on Monday, Nicole had to bring her in yet again Monday night as we noticed she had a wheeze and was struggling to keep food down. 
Last night she received an antibody that will hopefully help fight off the RSV, it may get worse before it gets better as it takes around 10 days to pass. In the meantime we need to monitor her closely and keep her hydrated by using her pump machine to deliver breast milk at a continuous and slow rate, as well as give her Pedialyte. Her blood counts should also be dropping from last weeks' chemo, so they want us to bring her in every 2-3 days to get checked until this hopefully passes without incident.
It's overwhelming to sit here and think back over the last year, what a roller coaster it has been. The last few weeks I've wrestled between whether I should hate 2013 or look at it as an opportunity. I think I've settled on C) all of the above.  I can't ignore that 2013, well, sucked. Our 10 month old daughter was diagnosed with a cancer that gives her a 50/50 chance of surviving, causes her pain and is receiving outdated treatment that may be slowly killing her body while saving it. We've spent weeks and weeks in the hospital seeing and hearing things that no person should have to experience. We've learned that 7 kids die of cancer every day, and only 4% of national funding goes to research for them because most people think pediatric cancer is all smiling kids with bald heads. What they don't know is that this is just a facade, the kids who survive go through an incredible amount of pain and suffering. Just visit the clinic and hear the kids screaming in pain, or watch a 2 year old girl vomit all over the floor as the chemo enters her body.  These are the sad truths and 2013 opened our eyes to them.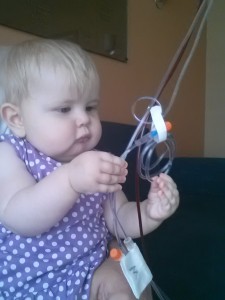 However 2013 also opened our eyes to the amazing spirit and kindness of people. Friends who have never met each other coming together to plan a fundraiser for Sally, a group of strangers in our neighborhood planning a fundraiser and organizing meal trains and rides to the hospital for us, the neighborhood moms winning a prize and donating to Sally with the awarders matching the gift, a 5 year old in North Carolina cutting off her hair because she wanted to give it to Sally, triathletes wearing yellow tutus in a race, Bills fans from all over the world sending love and support, Kearney high school alum taking care of their own, a group of students in the Bronx with learning disabilities writing get well letters to Sally, a school adopting our kids for Christmas, a stranger giving the boys tickets to Disney, countless errands run. There are so many acts of good will that I could go on and on, and every one of them meant the world to our family and brought tears of joy and sadness. We have met so many wonderful people and have made friends with several of them who we otherwise wouldn't have crossed paths with.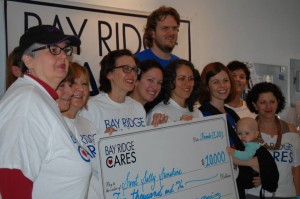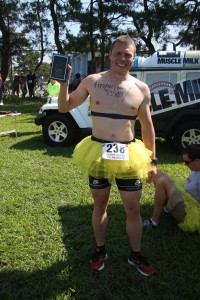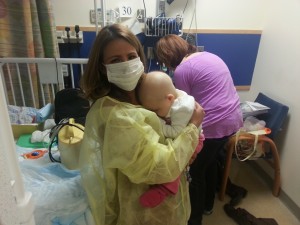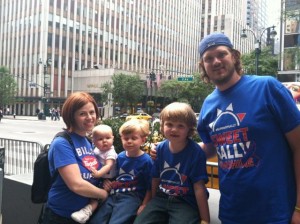 There's a story that when President Kennedy was visiting NASA, he asked a janitor what his job was. The man replied, "I'm putting a man on the moon." We have been blessed with an incredible team of doctors, nurses and staff at Memorial Sloan-Kettering, where every person on the 9th floor has an amazing spirit and passion for the kids being treated there. One of the cleaning women at MSK, Karen, knows her job is just as important as our team of doctors as germs are so dangerous for kids with cancer and considers each of the children there one of her own. We see this in so many people there, Sally isn't just a patient, she's their little girl and care about her greatly. We've seen this especially in Sally's nurses, who are the cornerstone to her getting through this.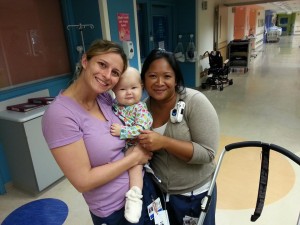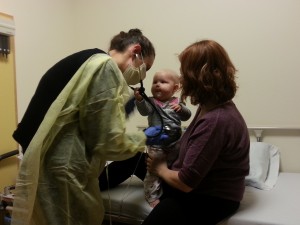 We've seen the extremes of good and evil in 2013. We've learned the horrors of pediatric cancer and have watched kids suffer and die. We've also seen the incredible strength of kids and their families like Scarlett, Cami, GiGi, Cannon and Ariane who beat the odds with strength most adults can't fathom. To say it was a good year or a bad one wouldn't do it justice. However, we're heading into 2014 with our gloves raised and ready to keep punching. We've been knocked down and will continue to get knocked down time and time again. But we'll bleed a little and get up to fight again to the end. To all who have supported Sally, we love and thank you.
Bring it on 2014, Sally owns you, and she has an army of supporters with her.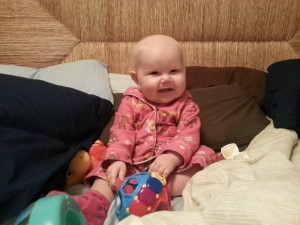 Please keep Sally in your thoughts and prayers.
Matt