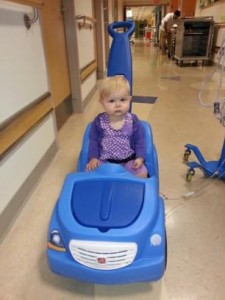 Hi all – its amazing how a very grumpy mood can wash away the second I arrive on the 9th floor here at MSK, and not only because I was going to get to spend the night with Sally. For those new to it, the pediatric in-patient floor can be a depressing and scary place. Seeing kids with cancer is never easy. But the more I come here, the more it has transitioned into a positive place. The kids here are fighting to get better with a resiliency rarely seen in adults, with an amazing support system of parents, nurses, therapists and doctors. Even the cleaning staff and people bringing the food are upbeat and positive. This floor is on a mission, and although its not something we wanted, I'm proud to be a part of it.
Sally had to receive her 4th platelet transfusion today as her numbers dropped. However, we saw her WBCs rise from .1 to .3, a small amount but the first sign of growth in 6 days. We'll take what we can get! Of course Dr. Tom came by and told Nicole not to be surprised if they go down again, which is normal. Jeez Doc, way to rain on our parade. C'mon Sally, you go ahead and prove him wrong.
Other than that, a very sleepy day for little Ms. Sunshine. She did manage to get to ride in one of the toy cars they have here, which she enjoyed. She was tired when I got here and not her usual spunky self. Except when I put her down for bed, which she's now cooing and kicking her arms, smiling when I go over to her. Yes Sally, I know, you're making Daddy pay for leaving you for 2 days.
Hoping for good blood results tomorrow. Please keep Sally in your thoughts and prayers.
Matt