Hi all – Over two years ago, and several times in between, we didn't know if we'd ever get to write this blog post. Sally had just been diagnosed with a rare form of Infant Leukemia that had a dismal survival rate. Today, here we are, Sally just received her last scheduled dose of chemo, and is officially considered post-treatment. Today brings a plethora of emotions – excitement, happiness, nervousness, fear, guilt.
Until this morning, we had thought that Sally had already had her last dose of chemo. It has taken over three weeks and three antibiotics to get Sally's pneumonia under control, the team decided to cancel the final two days of chemo she was scheduled for since her immune system was already taxed. This brought mixed feelings, happy we could skip the chemo but in a strange way sad that we wouldn't have the closure that comes with passing a finish line.  We all came in today as a family for Sally to get her bone marrow aspirate, the official end of treatment, to get some sense of closure. However we were surprised to find out that she would get one final dose of chemo in her spine. As Nicole said, it was meant to work out this way. When meeting with Dr. Kobos we had some questions about post-treatment care, and I found myself crying, the building emotions of the last few weeks finally coming out. I looked at her through tears and just said "thank you" for saving Sally's life, stopping her in mid-sentence as she was answering a question for Nicole. We all got up and shared a hug, getting that final closure we needed.
So what happens now? A lot of Sally's restrictions have been loosened, we can start slowly transitioning back to "normal". Because she still has the port in her chest, we still have to be somewhat cautious and bring her in with any fevers for the next few months. She'll return to MSK monthly for blood checks, and will get a bone marrow aspirate every three months.
Other than that, the main focus of treatment now switches from killing cancer to healing her body from two years of intense chemo. Sally is finally walking, a major milestone in this healing process. Another major challenge will be getting Sally to eat by mouth instead of her feeding tube. Because she never really ate before she was diagnosed, and has barely eaten in the two years since, she doesn't possess the oral muscle strength for eating. She also doesn't have much of a desire for it. Transitioning away from the feeding tube will take some time, we are slowly phasing out her anti-nausea meds, and hope her tastes and appetite will improve.
We're in the middle of testing to determine what caused Sally's aspiration pneumonia. The last test was inconclusive, we couldn't get her to eat or drink as she was terrified of being in the exam room. A few weeks ago she was terrified to be in the dentist office while the rest of us were getting our teeth cleaned, our little girl simply is scared of any hint of a medical atmosphere after everything she's endured. We can't blame her.
We're still awaiting results from her bone density test last month to determine if she will require further treatment for bone weakening from the steroids.
As you can see, Sally's story isn't over, we're just starting a new chapter. Not just Sally, but all of us. This week we booked two trips to Buffalo and Florida for this fall after doctors cleared us for travel. These are our first family trips in over two years, off to see friends and family of which many haven't seen Sally since she was an infant. We're also looking forward to some much needed down time as a family, and will be ending the trips with a visit to Disney World.
As we were leaving MSK today, we saw Dr. Steinherz. I went up, shook his hand and thanked him, not sure what else to say to someone who saved my little girl's life. Nicole yelled "We love you" over my shoulder. He walked away and we noticed an upset woman following him, she had the look we know all too well of someone who received devastating news. A few minutes later she came up to us and revealed that her son had just been diagnosed with Leukemia and was unsure of where to have him treated. She heard what we said to Dr. Steinherz and wanted to ask us about it. We told her of our experience at MSK and that we too had to make the same decision two years ago. We gave her our contact info and as she walked away, I hugged her and told her whatever decision she makes is the right one, and to never second guess any decision she will make in this battle.
We saw lots of friends in this visit, all excited for Sally, but that encounter with the mom has stuck with me all day. It brought to life those early days, and made me revisit what we've been through. In the end, I've decided that it was a sign. Maybe it was a sign for the mom that MSK was the right place for her, we agreed that it might be. But I think it was a sign confirming that Nicole and I are meant to support future families battling childhood cancer, and continue battling to secure better treatments for these kids. I'll continue to run the Childhood Cancer Dads Support group online, and we'll both help the foundations we've grown to see as our extended family in any way we can.
We encourage all of you to Go Gold for kids like Sally this September and help us raise awareness for childhood cancer research. Kids shouldn't have to endure what Sally did and will continue to deal with the rest of her life.
So this is it. We've crossed the finish line in the marathon we've been running for two years. We are so thankful for the continued support – our doctors, our nurses, all the staff at MSK, our therapists, fellow cancer families, the organizations that supported us, our employers, coworkers, our neighborhood of Bay Ridge, family, friends, those who sent meals and donations and all of you reading this. We could not have done this without you. I'm crying writing these final lines, overcome with the love you have all shown Sally these two years. You will always be family to us, never hesitate to say hi or introduce yourself, we want to put faces to the support we've had and thank you personally.
And to all the families we've fought alongside, we are proud to count ourselves among you. You have shown us the extremes of love, support and determination. Each of you will continue to live in our hears for the rest of our lives, the memories of those we've lost at the forefront of our minds forever.
We will still continue to share updates on Sally from time to time, in the meantime we're going to begin the transistion to the next phase of our life. Please wish us luck.
And please keep Sally amd all the childhood cancer families in your thoughts and prayers. Thank you all, we love you.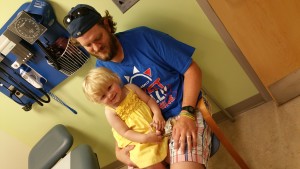 Matt