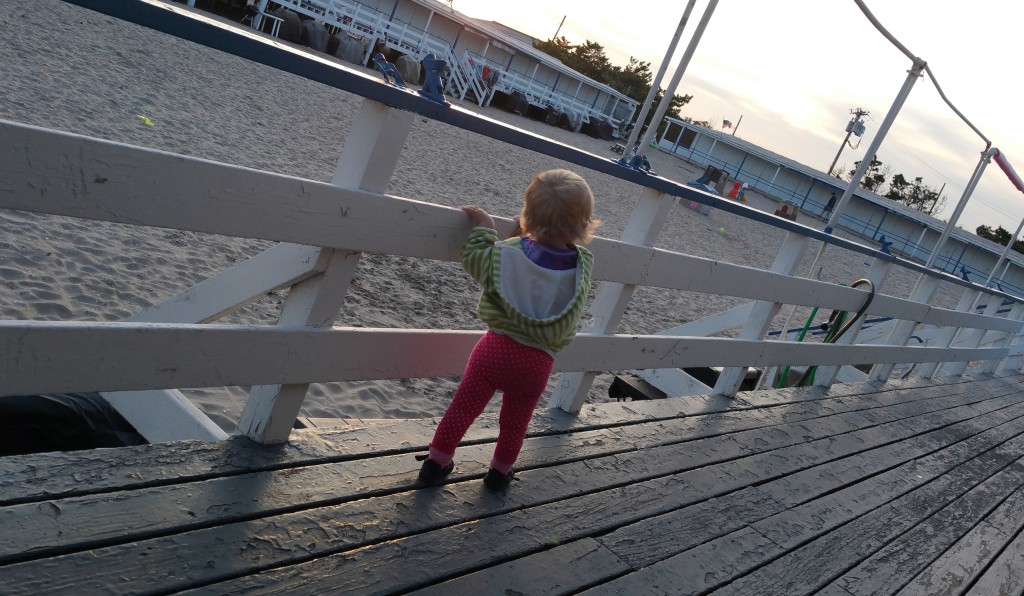 Hi all – Over the weekend we passed our two year anniversary of the day Sally first got sick. Although we were formally diagnosed on July 15th, Sally first showed symptoms that brought us to the ER on June 12th of 2013. From that moment on life was never the same for our family, and never will be. Nicole and I managed to sneak away to the cabana with Sally on the anniversary while the boys were at school as a nice distraction.
It doesn't feel like two years, the days and weeks are long but the years have gone by quick. As we've mentioned before Sally is expected to end her treatment sometime in August or September. It seems close, but for us still feels like a lifetime away. With that said, it's on our minds, but not for the reasons you may think. The point of this post is to try and explain in advance the emotions we're dealing with now and will likely continue to deal with for some time. There are a lot of misconceptions about what life after chemo is like for families. Nicole and I are often asked about Sally's treatment ending with questions that include:
Are you excited for it all to be over?
Are you going to throw a big party and celebrate?
You're done after this, right? You just get back to normal?
What are you going to do, ride off into the sunset and leave it all behind?
The simple answer to these questions and many like them – No.
For a stretch of several nights recently, I couldn't sleep, I felt like there was an elephant sitting on my chest. I was having a lot of anxiety thinking about the end of treatment, not only about the cancer side of it, but the idea of returning to a "normal" life after everything we've been through. I'm terrified that people will just expect us to flip a magical switch and be "normal" again. After a few days where those feelings invaded my daytime thoughts and were on the verge of taking them over, I finally looked at Nicole one night through held back tears and said, "Honey, I'm having a lot of anxiety about Sally ending treatment." After explaining everything that had been on my mind, Nicole confided that she too was experiencing the exact same worries, and we talked about how to deal with them. I can't tell you how much it means to have Nicole to go through this with, we've been on the same page all along. We shared a kiss and an acknowledgement that we were in this together, a feeling we both badly needed. We decided that we should share these feelings now to give people a better understanding of how we're coping in advance of chemo ending.
You see, Sally finishing her treatment isn't the end. True, her chemo treatment plan for Infant Leukemia concludes, but we have a long journey ahead of us.
First the cancer side of it. Sally's specific Infant Leukemia with (4;11) MLL translocation diagnosis has a high relapse rate. Early on in Sally's treatment after she went into remission, one of the questions we asked the doctors was when the threat of relapse would be highest. They answered that the threat would be greatest in the first six months after treatment ended, once she was off the chemo. From there, her odds would slowly improve but the threat would remain high for another year following that. So we have eighteen months of high risk 'wait and see'. Sally won't be considered a "survivor" by the medical community until five years post diagnosis, a label we may never feel comfortable using.  Sadly we've watched kids relapse both within and after this time frame.
Sally will have received intense treatment for over two years, more intensive than other Leukemias, including other Infant Leukemics. Memorial Sloan-Kettering pushed Sally's body as hard as they could, harder than any other hospital in the country treats Infant Leukemics because of the poor prognosis (~47% survival rate). This may save her life, but it could come with a price. Sally is not only high risk for relapse but also for a secondary cancer at some point in her life, whether as a child or as an adult, due to the impact of this intense treatment on her body. We knew this when we decided to continue pushing forward after she had the seizures, it's a risk we painstakingly decided to take.
The treatment has left her bones weak, we are trying to find a hospital that can sedate Sally for a bone density exam so she can hopefully undergo bone strengthening treatment. We are still working at trying to get her to take her first steps, she has a long ways to go to physically catch up with other kids her age. She has never eaten by mouth other than a few specs of food and lacks the jaw strength for chewing. We have a long road ahead of us with transitioning her off of the g-tube and to normal eating, as well as phasing out the many medications she's on. We don't know how long it will take for her immune system to rebound after being repressed for two years, so can't rush her back into crowded indoor spaces.
All of this is the more visible side of our stress that we've mentioned before, the threat of relapse and the hard work it will take to get Sally caught up in her development. Instead of saying we're done with treatment, we're going to say that this phase of her treatment will have ended.  We know too much about childhood cancer to think or accept that "it's over", and saying that makes us feel as if we're dooming ourselves. Just writing this post makes me feel like I'm jinxing us, but want our feelings need to be expressed. Emotionally, Nicole and I are scared of life post treatment. You see, many people assume that once treatment has ended the child's hair grows back, they go to school, and life at home and work for parents goes back to normal.  That may be the case for some people, but is not the case for most.
Through our journey we have met so many parents, most have had treatment end sooner than Sally's or went through treatment years prior. It may shock you to learn that most parents have a harder time emotionally after treatment than during. While you're in the battle, you focus on winning the battle. Afterwards, when all is quiet and you're on your own, that's when the horrors of what your family went through sink in. It's shocking because it's never really talked about, once a child finishes treatment the family is often removed from the public eye so you never really see the after effects. We see it in the parents we know and the various closed message boards for Cancer Parents. Because it's not widely known or accepted, there is a concern for families sharing those feelings publicly. There's a perception that you've made it through treatment, you should be happy about it and get on with your life, right?
We've watched children in pain, children deteriorate, children die both at MSK and across the country. In today's world of social media, you're exposed to families all over the country that you form bonds with through talking about raw feelings only a select few truly understand, which leads to watching even more kids suffer and some passing away. I don't care who you are, you can't watch this for three, six, twelve, eighteen months or two years and not be emotionally scarred by it. Just this past weekend I experienced a flashback.  I saw something on the street that acted as a trigger and transported me back to the first morning at MSK when I learned that a fellow child on the floor had died in the middle of the night. I remembered speaking with the family the day prior. I won't describe the flashback, but it sent chills down my back and I had to hold myself together.
A fever will never be just a fever anymore to us or any other Cancer Parent.  Is the fever a sign of relapse? Is the bruise from a normal fall, or are his/her platelets low? Is the knee soreness growing pains, or is it a tumor? We know too much now, and nothing will ever be simple again. Nicole has already made clear that she wants additional blood checks post treatment, and that we will be coming to MSK if Sally has a fever the first few months. We are not messing around or taking chances. We know that the earlier we catch a relapse, the more options for treatment we have.
In addition to the emotional scars, we're scared of "getting back to normal". We have been going to the hospital twice a week for two years. We've had a lot of support from the community that won't be there anymore. We have kept ourselves pretty isolated, especially Nicole. The cabana has been therapeutic for us, not only as a distraction for our family but as a method of transitioning socially. Most there don't know us as a cancer family and aren't aware that Sally has Infant Leukemia (although word is spreading), so have actually had "normal" interactions with people for the first time in years.
We are definitely out of practice, and are navigating if and how to share our history with people who aren't aware of what we've been and continue to go through. The challenge is that Sally looks like a normal toddler, except people notice she can't walk and although we don't publicize her feeding tube, we don't hide it either, leaving some scratching their heads as to what her condition may be. There's no malice, and we can't blame them, we'd probably react the same way.  Nicole finds the need to escape into the cabana's seclusion for breaks and not be around people for a few minutes. Imagine living in relative seclusion and then going out into the regular world and being social with strangers, trying to avoid the topic of what life has been like for us the last two years to appear "normal". I was recently at a fundraiser that benefited Sally, I felt overwhelmed and out of place in a room filled with joyous people and struggled to carry on a normal conversation. I'm sure Nicole and I will learn to adjust, but will take us some time.
Finally, there will be no celebration when we finish this treatment plan. There will be no "Last Day of Chemo" sign Sally will pose with and no party. Knowing what most of our fellow cancer parents are dealing with, from the emotions, to threat of relapse, to long term effects of the treatment, it doesn't seem right. More so, we're uncomfortable celebrating knowing all the kids and their families who didn't survive to the end of treatment. How can we hold up a sign and smile when kids we knew like Mac, Erik, Jed, Isabella, Mikey, both Kylies, Kallie and others didn't have a chance to? Or watching parents we know intensely grieve for their children years after they were lost? Or knowing kids like Casey who continue to battle the effects? Or kids like Tripp and Padraig who are battling relapses? We respect that every family is different, but this is how us Kabels are choosing to handle it.
So no, we aren't excited for the end of treatment. We are happy to hopefully be able to turn the page on it, but it's only a chapter in the book of Sally's story. Hopefully there will be less stress and more laughs in our lives, but these two years have changed us, we'll probably never be the old Matt and Nicole. When you see us, behind the smiles and spunk there will always live an anxiety that we will never be able to shed. We have to accept that this is OK, and hope others can respect that.
Please keep Sally and all the families battling childhood cancer in your thoughts and prayers.
Matt
www.facebook.com/sweetsallysunshine
www.instagram.com/sweetsallysunshine