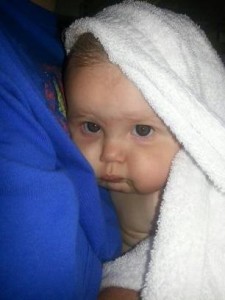 Hi all – Sally received yet another transfusion of platelets this morning, her third, as her counts for those were only at 10. So to review, she's been 6, 7, 10 when she needs to get to well over 100. In addition, her WBCs are still sitting at .1, which needs to rise a lot to even consider getting out of here. This all points to Sally being here for quite a bit longer as her body just isn't creating the blood cells she needs. We're assuming that she's going to need more platelets. Today's platelets were actually donated directly to Sally, so must have been donated when we first sent the request for blood out a couple days ago. Thanks to whoever you are!
One interesting thing we learned today is that the usual timetables for treatment don't apply to Sally due to her being an infant. For older kids, if the first cycle of treatment is successful and remission is achieved, it usually means the chemo plan will work. For Sally, she's so young that even if this treatment works for the first cycle, she won't have that same guarantee as her body is in such an early stage of growing. Something I think we both were aware of, but hadn't digested, and one of the reasons having Leukemia at this age is more of a challenge to treat.
Other than that, a quiet day as we hoped, I added some pictures below. We had a visit from our friend AnnMarie (one of the planners of the fundraiser) which was a huge help. Sally also got a much needed bath, she was starting to smell like a drunken sailor. I am on duty tonight so Nicole can get home and see the boys. I'll be going directly to work from here in the morning, a first for me, something I'll obviously have to get used to.
People have been asking us how they can contribute to Sally's treatment fund. We're doing the fundraiser in September that we'll send more details on, but know some can't make it and still want to contribute. After speaking with our accountant (and other families and staff  here urging us to do this) we have opened up a new bank account solely for Sally's treatment funds that we have to track and use carefully to be IRS compliant. We have also set up Contribution link through Paypal, its free if you use your Paypal account to send money, and a ~3% charge if you use a major credit card. Here is the link to the page, please note that all contributions are non tax-deductible:  http://www.sweetsallysunshine.com/contribute/
This is all new to us, so let us know if you have any issues. Again, its mentally hard for us to accept help, but are told that this will all cost more than we expect.
C'mon WBCs! We need ya!
Please keep Sally in your thoughts and prayers.
Matt